To the RAAM community
Jim Pitre and Lon Haldeman, who have run RAAM for the last six years, have agreed to sell the race to Fred Boethling, John Hughes and several other investors from the UMCA/RAAM community.
The 2007 RAAM will take place as planned with the solos starting on June 10 and the teams starting on June 12. Jim and Lon will continue in an advisory capacity and are working with us for a smooth transition to RAAM 2007.
Our highest priority is to ensure that RAAM continues for many years as a premier ultracycling event. We will build on 25 years of history to produce a high quality race in the tradition of John Marino, Michael Shermer, Lon Haldeman and Jim Pitre. We will focus on putting on a great race for the riders and crews.
Fred set the age 60+ solo RAAM record this year, the two-man team 60+ RAAM record in 2005 and officiated RAAM in 2004. Fred has served as the UMCA's Records chair for three years and holds nine ultracycling records.
John won three RAAM qualifiers in the early '90s, holds several UMCA records and raced solo RAAM in 1994 and 1996. Since 1998 John has served as the Director of the UltraMarathon Cycling Association.
Over the past several months we've talked to many in the RAAM community. We live in Boulder, CO and are meeting daily to fill in the details in our plan to produce the best possible race in 2007 and the years ahead.
As we firm up plans we will post more information on www.raceacrossamerica.org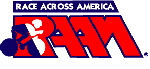 Fred Boethling & John Hughes