Race Across AMerica (RAAM)
Outside Magazine called RAAM the most difficult endurance event in the world. In the 2005 edition, the 24 th running of RAAM, cyclists raced non-stop from San Diego , California to Atlantic City , New Jersey , a distance of 3,052 miles, with 110,000 feet of climbing. Solo riders cover the distance in 8-12 days, 2-person teams in 6-9 days, 4-person teams in 5-8 days and 8-person corporate teams in 6-8 days.
In 2005, Fred Boethling and Dan Crain competed as TEAM 60+. Fred and Dan both turned 60 shortly before the 2005 race. In fact, Fred was the oldest rider in this year's RAAM. They finished the 3,052-mile ride in 8 days 13 hours 34 minutes, setting the over-60 age group record.
TEAM 60+ competed in the 2-man relay division. Fred and Dan took turns riding. Each rider rode roughly 100 shifts. Their shifts ranged from 10 minutes to 4 hours each, averaging roughly one hour per shift. The length of the shift was determined by time of day, terrain, weather and other variables. Each rode approximately one-half the distance, did one-half the climbing and was in the saddle one-half the time. Total down-time, that is time during which neither rider was riding, was just under 4 hours.
Each rider was supported by a personal support vehicle (PSV) and crew. In addition, there was a chase vehicle which ran errands and ferried riders and crew as necessary. All three vehicles were minivans.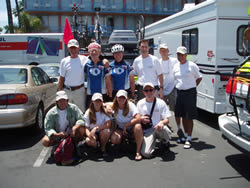 Fred's crew members were Chad Pinson, Ryan Pohanic, Nikki Miller, Ashley Bechel and Ira Kuchek. Dan's crew members were Jim Haltom, John Clare, Bill Ryder, Art Gonzales and Bobbi Fisher. Chad Pinson was overall crew chief and Rick Boethling was team manager.
Prior to RAAM, Fred and Dan rode two early season tune-up events. In March they raced in the Davis 24-hour Challenge and in May they attempted to set the UMCA Utah South-to-North cross state speed record. Both rides were successful. At Davis , they set both the age group and overall two-man team records, covering 424.7 miles in 24 hours at an average speed of 17.7 mph. They set the UMCA Utah cross-state record, covering the 353-mile distance in 19 hours 58 minutes, averaging 17.67 mph. While both of the tune-up rides averaged over 17 mph, they knew this pace would be unrealistic to maintain over the 7 or 8 days of RAAM.
Their goal was twofold: first, to set the over-60 age group record; and second, to beat the over-50 age group record set by Jim Pitre, the current RAAM Director, and Peter Pop. In 2001, Pitre (61) and Pop (51) averaged 15.36 mph. Based on their early season tune-up rides, Fred and Dan felt that was well within their reach. They believed they could complete RAAM in less than 8 days.
Fred and Dan, while they had a very good ride and set the over-60 record, nevertheless, failed to eclipse the Pitre/Pop over-50 mark. Fred believes they could have beaten that mark had everything come together as planned. In analyzing their 2005 RAAM effort, it became clear that improvements could be made in three broad areas: 1) the riders themselves; 2) the support effort; and 3) strategy.
Fred had problems near the end of the first day. Either his hydration, calorie intake, salt and/or sleep were lacking the first day or his system simply did not adjust quickly enough which led to him getting sick shortly after crossing the Colorado River in the middle of the first night. While he slowed down during the second day, Dan tried to pick up the slack and maintain the pace which resulted in Dan's getting sick late in the second day. By the end of the third day they were pretty much back on track.
There were few physical issues – minor cramping and IT-band problems. But, they were quickly addressed and resolved by the crew. They were relatively minor and did not have a significant impact on rider performance.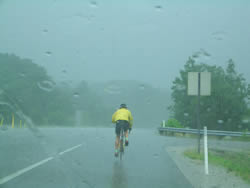 While there were no major issues involving crew, the stress of race conditions and other factors, from time-to-time, resulted in frustration and the flaring of tempers. But overall, spirits remained pretty high. One area which could stand major improvement was communication. Three methods of communication were used and even with that, crews were able to communicate only 80-90% of the time. There were several missed exchanges, instances of riders/crew out-running agreed upon exchange points and confusion regarding call-ins at some of the time stations. But, these problems gradually improved over the course of the ride.
RAAM requires a major effort. The logistics are difficult enough for solo riders, but they're compounded when you have a team with multiple crews.
The most serious problem was the decision made prior to the ride to use a chase vehicle to ferry riders and crew between motels for sleep, showers, etc. instead of using an RV. The decision to shuttle to motels would not have been quite so bad had the communications been better and the motels been perfectly placed.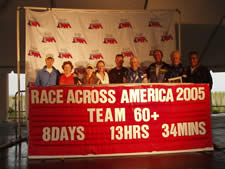 All in all, Fred and Dan had an excellent ride. As Fred pointed out, "Just finishing this race is a major accomplishment." However, Fred believes that he and Dan could have shaved 18 to 20 hours off their time had they been able to avoid the aforementioned problems. But as Dan said, "Well, that's like saying if my aunt had balls, she'd be my uncle." Fred agrees whole-heartedly and adds, "That's why rookies never win RAAM. The race is equal parts planning, ride management and fitness. And experience plays a huge part."
Fred plans to race solo in 2006. But, he'd also like to take another crack at the over-50 two-man team record.